Live Stream with Zoom
Zoom Rooms is the original software-based conference room solution used to transmit to one or more users located worldwide. The live broadcast will be on Teyuto, but its content (what the users will see) will be the Zoom Room, as if Teyuto's player hosted the video conference screen.
It's a quick and easy way to share live video conferences with your users, at the expense of video and microphone quality, which will be regulated by Zoom, limiting performance.
Please note: only Pro, Business or Enterprise accounts support direct, so make sure you have the necessary permissions before following these instructions.
From your browser, go to your personal settings and select "Meeting - In Meeting (Advanced)", then activate both "Allow live streaming meetings" and "Custom Live Streaming Service" checkbox.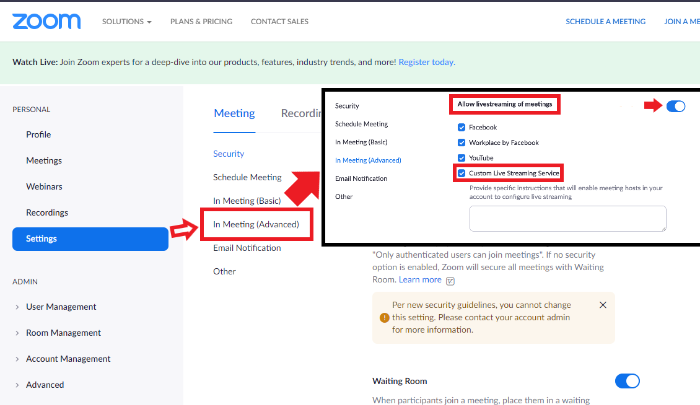 Now open the Zoom application and create a new meeting, after which select "Live on Custom Live Streaming Service" (if you don't see this option select the "more" button in the bottom right-hand corner).
You will have to enter the keys and urls that Teyuto provides you with for the live broadcast created in the video section.

Starting the custom live stream during a meeting or webinar
​To live stream your meeting or webinar to a custom platform:
1. Start the meeting/webinar as the host, by doing one of the following:
- From your calendar - If you have added the meeting/webinar to your calendar, click the link displayed on your calendar reminder.
- From the Zoom website - Sign into Zoom, find the meeting or webinar in the Meetings or ​​ Webinars page, and click Start.
2. Click the ​​More ​​button in the host controls.

3. Choose Live on Custom Live Stream Service​​. If the organizer configured this webinar for live custom streaming, a browser window opens that shows the progress as Zoom prepares the live stream of your webinar.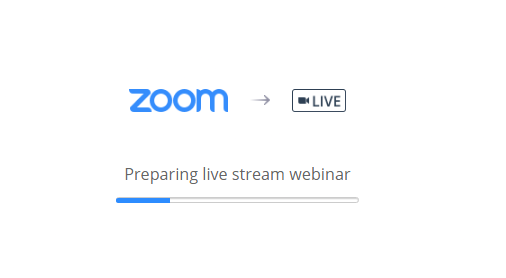 4. If the organizer did not set up this webinar for live custom streaming, you must enter the values provided in the instructions.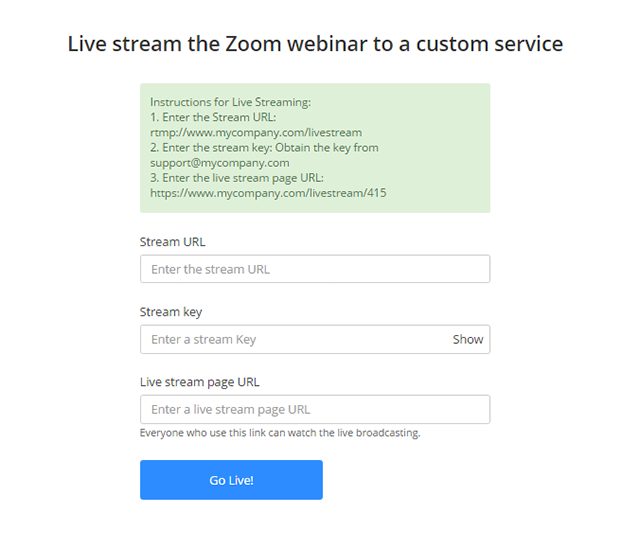 5. If the custom live stream requires authentication, you will be prompted to enter the necessary username and password.
Once the information has been entered, click the GO LIVE! button and you will be redirected to your channel page where the meeting will be displayed.
Updated 24 Sep 2023